ATTRACTIONS INCLUDE:
HORSE & PONY CLASSES, SHIRE HORSES,
PET SHOW, PEAK PERFORMERS DOG SPORTS,
  DOG & DUCK DISPLAY, GUNDOGS,
WOODY'S WINGS,
WILDLIFE CARVERS, STICK MAKING,
TRACTORS, CLASSIC & VINTAGE CARS, LANDROVERS,
  DERVENTIO BREWERY BAR,
TUG OF WAR, WI CRAFTS, SIDESHOWS & TOMBOLA,
TOY MAKING, CHILDREN'S AMUSEMENTS/ACTIVITIES
PROGRAMME –
TIMES APPROXIMATE AND MAY BE SUBJECT TO CHANGE.
 Time

General

Main Ring, etc

 08.00

Marquee Opens

 09.30

Horse & Pony Section Opens

 10.00

Marquee closed for judging

 11.00

Pet entries commence

 12.30

Shire Horse Parade

 13.00

Pet show commences

Gun Dog Display (throughout afternoon in their own area)

 Marquee Opens

 13.15

Peak Performers Dog Display

 13.45

Dog & Duck Display

14.15

Young Farmers' Tug or War

14.45

Shire Horse Parade

15.15

Dog & Duck Display

15.45

Tractor Display

16.30

Presentation of Trophies & Certificates by Ashley Franklin
Anyone who wishes to have an outdoor or indoor stall at this year's show should
click here to print a booking and information form
For any stalls who came last year – don't forget there is a substantial discount this for you because of the awful weather!
For further information please contact Claire Blissett on 01773 550396.
2015
Following the 2015 Show the following donations were made:
£200 to Civil Aid
£100 to Belper Young Farmers charitable funds.
2014
Following the show the following donations were made:
£100 to Belper Young Farmers Charitable Fund
£200 to Civil Aid
£400 to Air Ambulance.
2013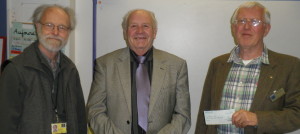 Given the success of the Turnditch and Windley Show last year, the Committee have been able to make presentations of £500 each to Gordon Blount (left) of The Air Ambulance Service. and Martin Cruttenden
(right) of Aquabox. They are pictured here with Les Blanchon who is the Chairman of the Turnditch and Windley Show Committee.
The Garden Competition will be judged on June 2lst, 2017 or as near as possible to this date, weather permitting.  We will visit the gardens that entered last year except for last year's lst prize winners, unless you inform us not to.
We would also like some new entrants this year! Please contact Robin & Josephine Lowe 01773 550586 to book your entry or for more information.
What time does the show start?
Horse & pony classes start at 9.30 for other attractions visit the programme page.
Where do you buy tickets?
They can only be bought on the gate. Cash only.